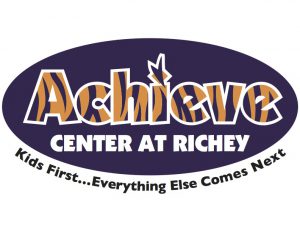 Achieve Center at Richey (ACR) serves kids in grades K-5 who have significant emotional/behavioral challenges. All of the adults in our school are well trained, highly compassionate and have a strong desire to help kids with unique needs. We have a wonderful team (check out who we are here).
Our goal is for all of our kids to love learning and to acquire the skills they need to be successful in life. In order to make this happen, kids are offered high doses of instruction in reading, math/science, social and self regulation skills. We also enrich the learning experience by providing art/music therapy, mindfulness/meditation, mentoring, scouting, community service and field trips.
Kids love coming to our school because of the attention and support they receive – many never miss a day. We work to develop strong trusting relationships with our kids, which helps them to develop self confidence and a growth mindset. 
Our motto is: Kids First…Everything Else Comes Next!
We can't do this work alone. Research shows when the adults work together (home and school) kids will:
be happier at school and at home.
want to attend school and learn each day.
improve their behavior at home and school.

earn better grades and test scores.

become more invested and excited about their future.